So the guy who built our house, in a flat county, really wanted a full basement, which is fine, but he was too cheap to build on grade bring in fill, so what did he do? He dug (I'm not actually sure excavating is cheaper than fill!). What's the consequence of that? Now there's a massive flow in the sump pit about 9 months out of the year! To make matters worse, he only put a regular size sump pit in, so the thing cycles very frequently (sometimes as much as every 20 seconds!). The least he could have done was sink a 55 gallon drum in there or something! Anyway, I've started taking measurments whenever I can on a fairly regular basis, so, everyone can see the ludicriousness!!!!! (yes, the y-axis is GPM, GALLONS Per MINUTE!)




And here's my setup. You'll notice I have 2 pumps, one submersed, one suction style on the floor, not submersed, they are on separate circuits. Main pump is a Zoeller M53 workhorse with the optional long run rod to allow an adjustable longer run cycle. . Only realy issue is the switch on the Zoeller burns up about every 2 years, which is not so bad at 20seconds cycle rate!. The backup switch is set just slightly higher that the main, so it will not cycle unless the main fails. The backup pump has a Digital Ion Switch (I replaced backup float switch in the picture with a Digital Ion, that switch had failed too many times on tests after it sat a while!). The digital Ion is nice swtich, hasn't failed me yet. I will probably buy another to put on the Zoeller and fix the Zoeller to be an unswitched model.

What's hard to see in the picture is the multiple alarms on the pit as well. I ran a CAT5 cable to my UPS, which has the environmental card in it, you can add up to 4 open/closed switches, like water, smoke, humidity...etc. I put 2 water sensors on it at a warning level (backup pump is on), and critical level (waters about to come up onto your floor). Also there is an audible alarm on it at a level that would inidicate both pumps have failed and waters rising!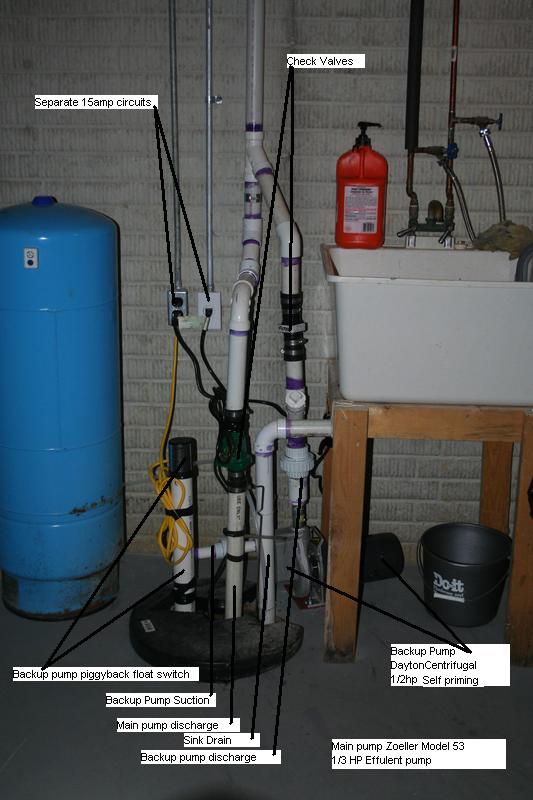 What if we lose power, you ask? No worries, we have a whole house fully automatic generator, which runs off our 1000gal propane tank. The generator is routed through a whole house automatic transfer switch, the system is compltely automatic, you lose power for more than 20 seconds, generator starts, transfer switch flips over and power is restored. Once utility power returns, transfer swtich will see that, flip back to regular utility power and shut down the generator. I looked into those battery backup pump systems, with the way mine runs, the battery would be dead in a matter of an hour or 2 I calculated, unless I wanted to run a bank of many batteries, I really didn't want 10 car batteries in my basement. I also looked into those house water run backup pumps, but they don't flow enough, and it would flow even less because we're on a well, they just don't have the flow and pressure city water does.